Field Trips
Call Kim or Julie at 208-552-1080, email artitorium@idahofallsarts.org, or complete the request form above to book your field trip.
The ARTitorium experience is suitable for students K-6. Field trips are designed to meet National Core Arts Standards in Visual Arts, and are available for schools or other youth groups. 
Limited funding is available for school field trips to cover the cost of transportation to ARTitorium on Broadway. See Details.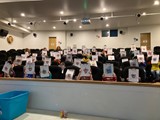 2023 - 2024 Field Trip Topics
All field trips are suitable for any size group (20-120) and can be customized based on your needs. Don't see a topic you want? Work with our ARTitorium Education Specialist to make a custom field trip.
We will look at ways artists use lines and then use different lines to make art.
Let's look at small pieces, then make them big!
We will explore color by examining works of this famous artist and then try some art of our own.
Focus on the art of Jasper Johns, Charles Demuth, and Robert Indiana.
Explore how the Impressionists used color to make art full of bright colors.
How can we trick our eyes and make fun art?
Didn't see what you were looking for? Contact us to create a custom field trip.
Want to bring a preschool group for a field trip? These are your options!
If you have less than 20 kids: Schedule time to play for $3 a child.

Add a private lesson in the classroom with our art teacher for $50. Talk to our art teacher for your custom lesson.

Do a field trip lesson for a $60 minimum fee. Includes play time.

If you have 20 kids or more, pay $3 a student with an art class included (limited supplies, usually read a story together and do a short project with crayons or markers.) Play time is included.
Each time we have gone, my students have learned valuable art skills and enjoyed exploring the hands-on art exhibits. They can express their creativity in a fun and safe environment. Every year we have attended the staff has been incredible to work with. Grants for transportation that are greatly appreciated and make the experience possible. The staff is well organized and can accommodate larger groups of students; even allowing the students a place to eat their lunch during the winter.
Our 2nd grade at Burton Elementary has visited the ARTitorium annually for the past five or six years and it is an amazing experience for our kids. They love learning about different artist and styles and applying those styles to their art work. We also love the variety of choices of STEAM activities in the interactive area. The bus grant has been essential in our ability to attend each year. Our experiences at the ARTitorium have given us initiative to incorporate artist study and hands on STEAM activities in our classrooms. We love the ARTitorium and plan to continue attending with our 2nd graders each year.
The staff is incredible to work with every year. They are understanding of a Kindergarten student's needs. They are well organized. and ready for us every year when we arrive. The grants for transportation are greatly appreciated. The bus grant helps defer some of the cost so we can continue to bring our students to the ARTitorium. Our school is in a rural community. We have a low socially economic status. We have a high migrant population that has not had exposure or opportunity to this type of learning experience. This was exciting for students and offered exposure for some that may not of had that opportunity. Thank you!
This field trip is one of the best we attend all year! The staff makes it easy to register and accommodates our schedule. They also provide grant opportunities to help pay for transportation, which is greatly appreciated. The field trip itself is wonderful. They have very interesting lessons that are appropriate for first graders. The students have the opportunity to learn art specific content that they will not learn at school. The hands-on activities are wonderful and interactive as well. This field trip is valuable for all ages and learners. Regardless of academic performance, all students are able to participate, be creative and feel successful.
I have had the privilege of taking multiple field trips over my sixteen years of teaching. I really enjoy the way they have an activity set up where they read a story, watch a video, or have an activity to learn about various kinds of art. After learning about the art, they have an art activity where the students then get to use what they learn to create their own art! These activities are always so fun and well organized! The ARTitorium has such friendly and enthusiastic staff that presents the material in a fun way and are always so great at keeping the students excited and engaged! After the lesson, the students love to explore and play in the open area with the slides, light up blocks, touch screen devises, etc. There is so much to do that our field trip to the ARTitorium is always a highlight for these students for the year! I am grateful every year when my students get to go and experience the ARTitorium for the first time.
I have had the opportunity to take my students on field trips to the ARTitiorium in Idaho Falls for the past 3 years. My students and myself have always learned so much and had such a great educational experience each time we have attended. The art project, with step by step instruction, has been so good for my students, especially for those who think they are not artistic. They are able to learn something new and feel accomplished and creative in what they have drawn and learned. Also, the hands-on activities have such great resources for learning.The staff is very accommodating, organized, and so friendly to work with. I have appreciated the grants that are offered for transportation, so that my students have the opportunity to attend such a fabulous center.