Field Trips
Call Whitney or Julie at 208-552-1080, email artitorium@idahofallsarts.org, or complete the request form above to book your field trip.
The ARTitorium experience is suitable for students K-6. Field trips are designed to meet National Core Arts Standards in Visual Arts, and are available for schools or other youth groups. 
Limited funding is available for school field trips to cover the cost of transportation to ARTitorium on Broadway. See Details.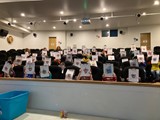 2022 - 2023 Field Trip Topics
All field trips are suitable for any size group (20-120) and can be customized based on your needs. Don't see a topic you want? Work with our ARTitorium Education Specialist to make a custom field trip.
Our favorite book in an art lesson. What will be under your bed? And what will your alligator eat? 
We will use fun art words to make our own art!
We will look at some fun contemporary pop artists and make our own happy art.
We will see some art, listen to some cool music and make our own art.
Where do artist get ideas to make art?
Drawing a forest we will learn how artists use "tricks" to make things look close and far away.
We will work on making designs using one color and tints and shades of that color.
Didn't see what you were looking for? Contact us to create a custom field trip.
Want to bring a preschool group for a field trip? These are your options!
If you have less than 20 kids: Schedule time to play for $3 a child.

Add a private lesson in the classroom with our art teacher for $50. Talk to our art teacher for your custom lesson.

Do a field trip lesson for a $60 minimum fee. Includes play time.

If you have 20 kids or more, pay $3 a student with an art class included (limited supplies, usually read a story together and do a short project with crayons or markers.) Play time is included.