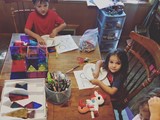 Homeschool Week
All homeschool kids ages 5 and up get $1 admission for themselves and their families between 10am and 4pm, September 13-16, 2022. Grab n Go bags available for just $1, too (limit of 6 per family). Just ask for the discount at the front desk! Groups of ten or more please schedule your visit in advance by calling (208) 552-1080.
Art Classes
Our *Especially for Homeschoolers* Art Classes are designed to help you put art in to your curriculum (and have a little fun on Fridays too). Each class will be individualized to fit the needs and ages of the students in the class. Visit this page to see upcoming classes.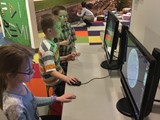 Field Trips
Homeschool groups are welcome to schedule in-person field trips at ARTitorium or see our Grab n Go Field Trip options.