ARTitorium is the perfect place for birthday parties and there are several options of how to have the perfect party for you! Check out the package options below:
Interested in a birthday space?
Fill out our birthday party request form!
A staff member will respond within 2-3 days to confirm your request.
JUST PLAY!
Pay $3 admission per person (adults and children 3 and up) and spend as much time as you want at ARTitorium during regular open hours. You must schedule in advance to receive the $3 rate, but you can pay the total or attendees can pay separately.
EAT AND PLAY!
$3 admission per person plus $50/hour to rent the party room for food, drinks, and gifts. Bring your own food and drink or add pizza to your party package (see below). Please note that no homemade food is permitted. The party room accommodates up to 20 people (children and adults). Contact us for options if your group is larger than 20. 
WATCH A MOVIE!
$130 to rent the MC Theater for up to 4 hours to watch a movie. This price includes a technical staff member to run the movie. Food is permitted in the theater at no extra charge, though a cleaning fee may be assessed after your event. Arrange in advance for set up of additional chairs or tables. Admission to ARTitorium's play space is an additional charge - $3 per person if scheduled when you book the theater.
Add an Art Activity
Add a one-hour private art activity for your group with ARTitorium's art teacher. This can be added to any of the packages above and can be customized to your party's theme. Must be scheduled in advance and depends on the availability of the art teacher. Please note that we are unable to accommodate birthday party art activities in May due to the high frequency of school field trips. Thank you for understanding.
PRICES:
Up to 6 kids: $50
7 to 12 kids: $65
13 to 18 kids: $75
SAMPLE ART LESSONS:
Dinosaur in the City - Make a city full of buildings, then design a dinosaur or monster to stomp around it! (Ages 5-7)
Animal in a Landscape - Does the birthday child have a favorite animal? We can do a favorite animal in a landscape of its habitat. Some favorites have been Panda in a Bamboo Forest, Snake in the Grass, Jellyfish in the Ocean, and Mermaid in the Sea. Let us see if we can do your animal!  (Ages 5-9)
Landscape Painting - A color mixing activity! We will paint a landscape of hills and fields, mixing all kinds of colors along the way. (Ages 10-12)
Add Grab n Go Party Favors
Add Grab n Go project bags as party favors for your guests! Each bag includes the supplies for 4-6 fun projects to do at home. Order these when you book your party for just $2 each (usually $3). Grab n Go project bags will be aligned with our monthly theme, but all of the projects will be different than the ones that you make while you're here!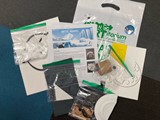 ARTitorium's main play space is available to rent for private events during non-public hours. Please contact us for more information.