ARTitorium offers special activities and programs specifically for families in Idaho Falls and eastern Idaho. Perfect for kids at a variety of ages!
Mondays, 5 - 8:30 pm | $4 per person
Family Fun Art Night
Work together as a family to complete an art project. Different theme each month and a different project each week.
Drop-in project from 5-7pm. This project is led by our art teacher and is appropriate for all ages with parental guidance. No additional cost.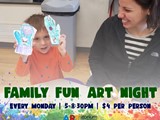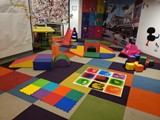 Time For Tots | 0-5 Years
Tuesdays & Thursdays, 10am - Noon
Regular Admission ($5 | Free for under 3s)
The Time for Tots program does not take place during field trips. Please check the schedule or call before you come to make sure you are not disappointed.
We are setting time aside for the littlest of Art Adventurers! Everyone is welcome, but during this time we will make the main space perfect for those 5 and under. There will be special activities for pre-schoolers and toddlers at the Found Art Tables to work on as a family. We will also take away some of the things that are best saved for older kids, so that parents and little ones can enjoy time together without so much worry. Drop in at any time and play as long as you want!
Please note that we require at least one adult for every 6 children. If you are a daycare or other group with more than three kids under 3 years old, admission costs may be different - please contact us for more information.
If a school field trip is in the building, ARTitorium remains open and everyone is welcome to visit. However, we do not put out the Time for Tots activities. Please check the schedule of upcoming field trips or call before you visit.