We are in our busy field trip season! ARTitorium is always open to the public during field trips, but be sure to check the schedule or call ahead if you want to avoid the chaos!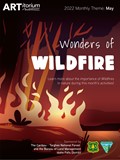 May Theme: Wonders of Wildfire
This month we're focusing on fire ecology and (responsible) fire fun. It will be lit. 
Sponsored by the Caribou-Targhee National Forest and Bureau of Land Management, Idaho Falls District.
Check out all of our upcoming art classes on the calendar!