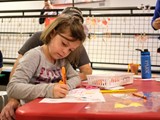 Monthly Projects
Collage, design, color and more with a variety of materials. Project ideas change every month with the current theme. Coloring pages and everything from markers to crayons are available for a low-tech moment for any age.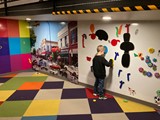 Magnet Wall
Play with composition and perspective on our giant magnet wall. Perfect for all ages, but particularly accessible for the littlest members of your group.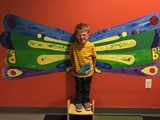 Murals
Our murals aren't just to look at, we want you to be a part of it! Just use the supplies at the tables to create your piece of the picture and then add it to the wall. Let your imagination run wild!
Also, visit the cave and add your own 'cave paintings' to the walls with chalk! Or strike a pose in front of the Butterfly Wing Photo-Op Mural inspired by the artwork of Eric Carle.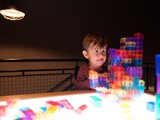 Light Table
Translucent shapes and objects help you mix and play with colors to create new shades and colors and shadows. Build upward with magnetic shapes to see different hues and shadows. 
Located at the top of the ramp, above the Virtual Gallery.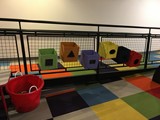 Shape Sort
Perfect for little Art Adventurers who are learning to master their shapes and colors - the fundamental building blocks of art. Sort by color and/or shape to help kids learn as they go and get their feet moving too.
A great activity for when bigger siblings are running around the rest of ARTitorium! Let them loose or help them learn.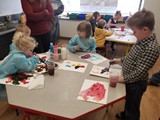 Classroom Fun
We have fun and sometimes messy projects out in the classroom. Instructions are on the white board and the materials will be out for you to use.
Just make sure that there isn't an art class going on before you head in!
Swirly Slide
A perennial favorite attraction at ARTitorium! Located above the Virtual Gallery the Swirly Slide keeps kids moving and reminds everyone that this is a place to play!
Don't worry, grown-ups are allowed on the slide too!