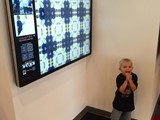 Motion Wall
The fun starts as soon as you come through the door! Paint with a variety of digital brushes and colors and shapes to create your own masterpiece. Go abstract, paint a portrait or landscape, or something completely different!
Also, see yourself and your friends in a human kaleidoscope with different filters, features, and symmetries!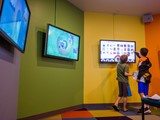 Virtual Gallery
Get inspired by over 300 artworks on six large touch-screens in the Virtual Gallery. Explore by color, artist, style, time period, nation, and more.
Grab a ISpy sheet and see what you can find!
Artworks are from the collections of the National Gallery of Art, the Smithsonian American Art Museum in Washington D.C, and others.
Creation Stations
Be a digital artist with six different art-making software applications on our Creation Stations. Applications include Action Painter, Collage Machine, Scape, Still Life, Pattern Maker, and Stone Painter.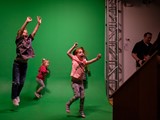 Green Screen
Enjoy our green screen studio, one of our most popular stations, with all of your friends! Perform in front of different still or moving backgrounds, add music and effects, and record your own minute-long video. Background images will change every month to fit the current theme.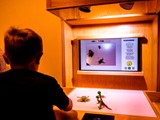 Stop-Motion Animation Stations
Just like the technology used to make movies like Chicken Run and Wallace and Gromit. Use toys and craft supplies to create your own storyboard then animate a short video with a series of photographs taken by our Stop-Motion Animation equipment, then watch it play back.
Younger Art Adventurers may need some parental assistance at this station.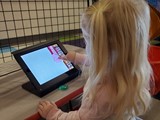 iPads
We choose fun, creative, and educational software for you to try out on our iPad station and change it every few months!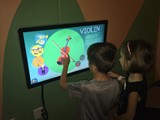 Virtual Symphony
Discover the instruments and families of the orchestra through this amazing interactive music experience! Created in partnership with the Idaho Falls Symphony.