Vision
Our vision is to provide welcoming, fun-focused, and imaginative experiences in the arts for kids and families, and to be a valuable and meaningful resource for caregivers and teachers across eastern Idaho.
An interactive art adventure for kids
Located in downtown Idaho Falls, ARTitorium engages children in art experiences that are meaningful, entertaining, sometimes noisy, and always fun. We do this through field trips, art classes, and a variety of interactive exhibits. Current attractions include art-making software, a green screen studio, stop-motion animation stations, a virtual gallery, and monthly-themed art projects.
The 136-seat MC Theater provides a fully-equipped yet intimate setting for performances, music, and film.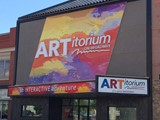 to inspire kids 0-12 years of age and their families to interact with, explore, and create art

to embrace mess and noise as a mode of creativity
to focus on hands-on, tactile, immersive, and play-based attractions

to expand access for participation

to give kids access and exposure to a wide variety of art experiences
to encourage intergenerational experiences

to collaborate with kids, caregivers, parents, teachers, and schools in developing exhibits and programs
History
ARTitorium on Broadway is housed in the old Rio Theater on West Broadway in downtown Idaho Falls. The Rio originally opened under the name of the Broadway in 1924, was renamed the Fox shortly after, and became the Rio in the mid-1930s. The theater closed in 2001.
The building was donated anonymously with the hopes that it would become a lively and fun place of kids in downtown Idaho Falls. Construction began on ARTitorium on Broadway in November, 2013 and was completed in June, 2014. It opened to the public on August 15 and 16, 2014.
ARTitorium is owned and operated by the Idaho Falls Arts Council, who also operates the Colonial Theater and Willard Arts Center.
ARTitorium on Broadway is another adventure from the Idaho Falls Arts Council.
What You've Said
ARTitorium can be a kind of tricky experience to explain if you've never been before. So here is what some of our visitors, local and out-of-towners, have had to say about their experience at ARTitorium!
Inexpensive and fun for the kids. Us adults had fun too!
We held a birthday party for our twin toddlers at the Artitorium, and everyone absolutely loved it! It's so perfect; it's an amazing resource for everyone in the Idaho Falls region. The kids and the parents all had a fantastic time and enjoyed the exhibits, all of which were cool and fun and clever. The art classes are fabulous too.
I wish I lived closer because my kids LOVED IT! We had ages 2-30 and everyone had fun.
My kids didn't want to leave this place. It's an amazing price for all of the fun they can have!
There is so much to do. I spent 2-3 hours there and could have spent longer there. There are many different types of art and mediums to use. There is most definitely something there for everyone. They have art, crafts, music, and film areas here. It is a place everyone should go to! :-)
I have taken my children here multiple times, and they always have a blast. The employees do a wonderful job of cycling out different art projects, so there is always something new to do. I have also been able to sit in and watch a field trip. They can customize them towards what your students might be learning in class, so it is really fun. Highly recommend as a different, family friendly thing to do here in Idaho Falls!
Cool, cool, cool! My kids and I need to make it to the ARTitorium more often. What a blast!
My girls (3 & 5) absolutely LOVED it! We had SO much fun! We are a very artistic family, this was a perfect place! It is very well priced also!
The price was awesome 20 bucks for my family of 7 (1 being a toddler). We walked in and it looked pretty cool, but I wasn't sure if it would keep my kids entertained for long, but a couple hours later I was dragging them out. A lot of different types of art to try and interact with. Quite a bit being digital arts as well. They also had fun projects the kids could work on while there to earn a badge. Had a great time!
I have been to the Artitorium with field trips, and loved it so much I took my kids back! There is so much to learn, and interact with. The instructors and employees were all very helpful as well! I highly recommend a visit.
We visited the Artitorium while we were in Idaho Falls on vacation. My kids LOVED it! There was something for everybody and the price was right. My kids are 7, 5, 4, and 1 and they all kept talking about the fun they had all day. Thanks for providing a great, safe place for kids to run free and be creative!
What a fun place!! We've never been to an art children's museum quite like this. They had so many great art prompts throughout that there was something for everyone. We colored, created, and moved through the whole place. We weren't sure about it going in, but we're glad we did. I have a 9 & 13 year old and they both found fun things to do and would recommend spending an afternoon here!
Lovely people, very helpful and engaged. The exhibits change monthly. Very reasonable entrance fee. Your entry fee let's you leave and come back all day.
The kids really love this place! It's a wonderful educational experience for them to be creative at the Artitorium!
Love it!!! Definitely a must place. Very creative.